About
The 3rd SRSE

202

1

-

Harbin Virtual Conf.

,

Nov. 26-28
---

The 3rd International Conference on System Reliability and Safety Engineering (SRSE 2021) was held in Harbin, China on November 26-28, 2021. Due to the outbroke and continuing impact of the COVID-19 pandemic in Harbin recently, the organizing committee decided to hold it online. It's conjunction with the annual meeting of SESC Systems Reliability Engineering Technical Committee (SESC). The conference is sponsored by National University of Singapore, Singapore, Harbin Institute of Technology, China, SESC Systems Reliability Engineering Technical Committee, China, co-sponsored by Beihang University, China, City University of Hong Kong, China, and organized by Institute of Reliability in Electrical Apparatus and Electronics, China. There were more than 150 delegates from China, USA, Canada, UK, Korea, Japan, etc attended the online conference, and in-depth discussions among the attendees effectively advanced the academic exchange.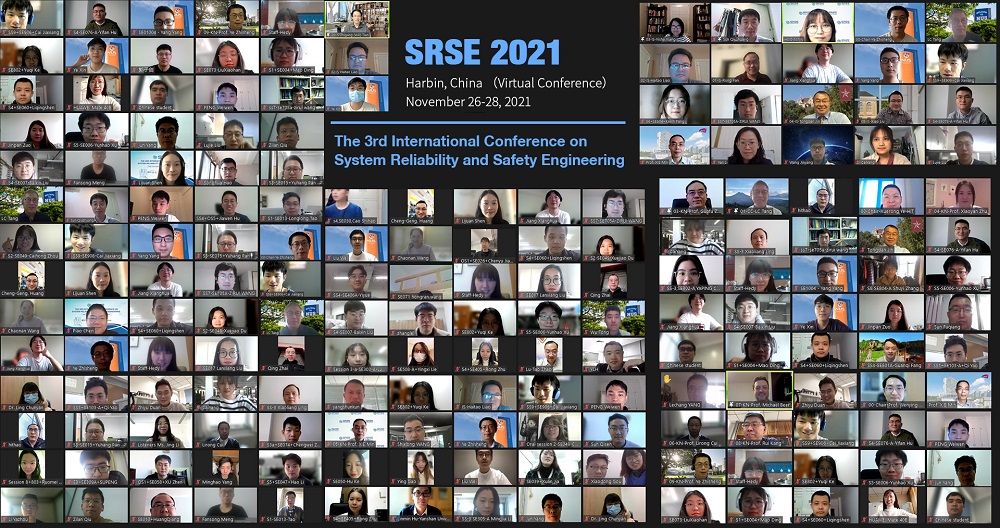 Sponsored by
| 主办单位
---

Co-

sponsored by

| 协办单位
---

Organized by
| 承办方
---

Publication
---
Accepted papers were published in SRSE conference proceedings.
ISBN: 978-1-6654-0160-9
IEEE Xplore Online: https://ieeexplore.ieee.org/xpl/conhome/9694273/proceeding
Index: EI Compendex and SCOPUS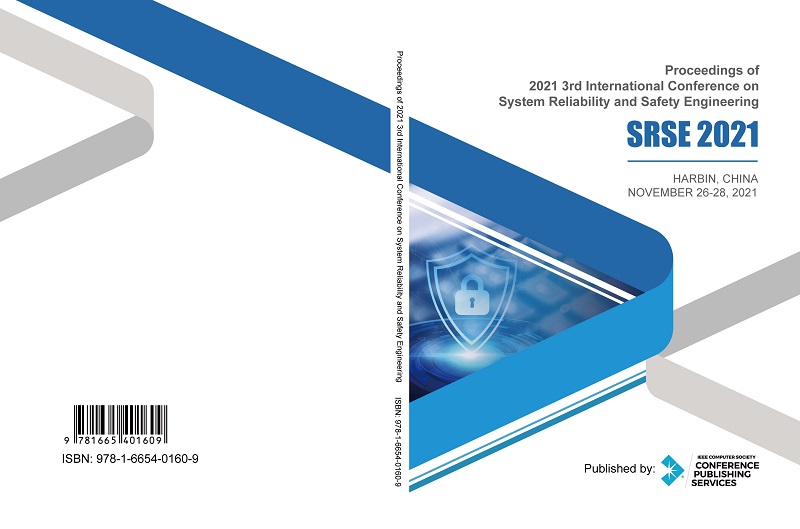 About Conference
Online
---
The program chair Prof. Xuerong Ye (Harbin Institute of Technology) host the morning keynote session. Conference General Chair Prof. Loon Ching Tang (National University of Singapore) gave the Opening Remarks and expressed his sincere gratitude to the co-organizers and warm welcome to all the experts and scholars attending the conference. And on behalf of Harbin Institute of Technology and the TPC group, the program chair Prof. Xuerong Ye (Harbin Institute of Technology) gave the welcome and program address, with brief introduction to the organization of SRSE 2021, the review process and collection status of articles this year.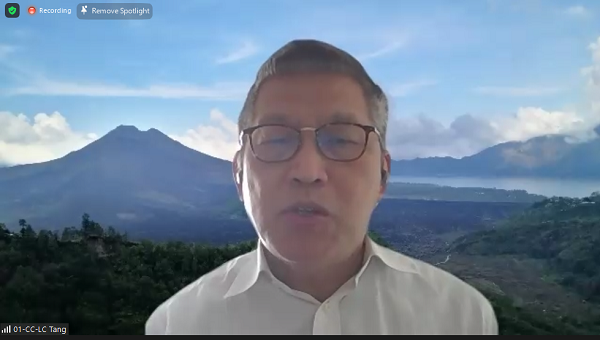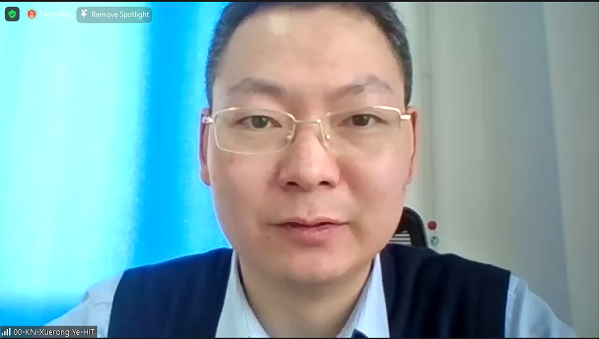 In SRSE 2021, eight distinguished professors delivered the keynote speeches and thirteen experts delivered invite speeches. They are
Prof. Mingjian Zuo, University of Alberta, Canada
"Machine Learning and its Applications in Prognosis and Health Management"
Prof. Guofu Zhai, Harbin Institute of Technology, China
"The Product Quality Consistency Improvement Technology Based on Digital Prototype Model"
Prof. Xiaoyan Zhu, University of Chinese Academy of Sciences, China
"Joint optimization of condition-based maintenance (CBM) and inventory control of spares for degrading components"
Prof. Min Xie, City Univerisity of Hong Kong, China
"Some Reliability Problems in Cyber-Physical System Development and Applications"
Prof. Lirong Cui, Qingdao University, China
"Reliability Modelling via Virtual Ages"

Prof. Michael Beer, Leibniz Universität Hannover, Germany
"Engineered Systems: Complexity, Uncertainties and Quick Informed Decisions"
Prof. Rui Kang, Beihang University, China
"Belief Reliability: A New Theory for Reliability Engineering"
Assoc. Prof. Zhisheng Ye, National University of Singapore, Singapore
"Data-Driven Risk Evaluation of a Large-Scale Pipe Network"

Prof.

Rong Pan of Arizona State University, USA
"Experimental Design for Reliability Testing

"

Prof. Haitao Liao of University of Arkansas, USA
"Risk and Resilience-Based Optimal Post-Disruption Restoration for Critical Infrastructures under Uncertainty"
Prof. Yisha Xiang, Texas Tech University, USA
"Data-Driven Markov Decision Processes with Parameter Uncertainty: Application to Remanufacturing Planning"
Prof. Tongdan Jin, Texas State University, USA
"Industry Best Practices for Prognostics and Health Management: A Case Study of Semiconductor Test Equipment"
Prof. Xiao Liu, University of Arkansas, USA
"Physics-Informed Statistical Learning for Nonlinear Structural Dynamics of Aircraft-UAV Collisions"
Prof. Zhigang Tian, University of Alberta, Canada
"Equipment prognostics based on integrated and data-driven approaches"
Prof. Yanfu Li, Tsinghua University, China
"Research Progresses on the Availability of High-speed Rail Systems"
Prof. Shaomin Wu, University of Kent, UK
"Some Recent Extensions of the Geometric Process and Their Applications"
Prof. Suk Joo Bae, Hanyang University, Korea
"Reliability Analysis and Maintenance Optimization for Complex Repairable Systems"
Prof. Bin Liu, University of Strathclyde, UK
"Condition-based Maintenance for Dependent Degradation Processes?"
Prof. Piao Chen, Delft University of Technology, Netherland
"Pairwise Model Discrimination with Applications in Lifetime Distributions and Degradation Processes"
Prof. Daqing Li, Beihang University, China
"Health Management of Complex Networks"
Prof. Cen Chen, Harbin Institute of Technology, China
"In-situ Condition Monitoring Methods for Power MOSFET Gate Oxide Degradation"

What's more, ten special sessions, two best paper competitions, poster session and five parallel sessions were held among the topics Risk Management and Data Calculation, Reliability Analysis and System Modeling, Model-based Software Safety Analysis and Evaluation (MBSSAE), System Reliability Modeling and Stochastic Orders, Prognostic and Health Management of Systems in the Environment of Big Data, Analysis and Optimization of Risk and Reliability, Reliability and Resilience Oriented Energy System Optimization, Degradation oriented Reliability Modeling, Analysis, and Optimization, Degradation-based Modeling and Decision Making, Data-driven Methodology on Maintenance, Warranty, and Failure Data Analysis, Modeling and Risk Management of Complex Engineering Systems, etc.

According to the review of the organizing committee and discussion of organizing committee meeting, two best papers and one student paper were selected after the competition. Each parallel session went through smoothly and a "Best Oral Presentation" award was issued at the end of sub-conference, with the support of session chairs.


Best Paper in Maintenance and Warranty Optimization
A Data-Driven Pricing Model for Extended Warranty under Different Product Failures and Customer Characteristics
Jiaxiang Cai, Xin Wang, Zhisheng Ye
National University of Singapore, Singapore
(SE908)
Best Paper in System Modeling and Analysis
Reliability Evaluation of Phased Mission System Under Multiple Correlated Failure Modes
Xuejiao Du, Caihong Zhou, Jingbo Gai, Ke Yan
Harbin Engineering University, China
(SE049)
Best Student Paper
Optimal Operating Reserve Scheduling for Power System with Reliability and Wind Curtailment Limits
Yang Yang
National University of Singapore, Singapore
(SE01004)
Best Oral Presentation
Special Session 1: Model-based Software Safety Analysis and Evaluation (MBSSAE)
Reliability Analysis and Evaluation Method of Complex System Based on the Multi-layer Complex Network
Minghao Yang

,

Beihang University, China
(SE104-A )

Special Session 3: System Reliability Modeling and Stochastic Orders
Optimal Maintenance Policy for Continuously Monitored Degrading Product Considering Learning Effects Under Performance-Based Contracts
Zhi Luo Tianjin

,

University of Finance and Economics, China
(SE303-A )
Anomaly Detection of Blast Furnace Smelting Process Using an Improved Multivariate Statistical Process Control Model
Lutao Zhao

,

University of Science and Technology Beijing, China


(SE310-A )



Special Session 4: Prognostic and Health Management of Systems in the Environment of Big Data
A Novel Denoising Convolutional Autoencoder Based Lithium-ion Battery SOH Monitoring Method
Yiyue Jiang

,

Sun Yat-sen University, China


(SE406-A )



Special Session 5: Analysis and Optimization of Risk and Reliability
Optimization of Defense Capability of Consecutive k-out-of-n System Facing External Risks
Qiyu Wang

,

Northwestern Polytechnical University, China
(SE505-A )
An Explicit Method For Reliability Analysis Of Systems Subject To Cascading Probabilistic Common Cause Failures
Chaonan Wang

,

Jinan University, China


(SE508-A )



Special Session 6: Reliability and Resilience Oriented Energy System Optimization
Resilience Analysis Of Power System Subject To Severe Weather
Lijuan Shen

,

Singapore-ETH Centre, Singapore


(SE602-A )



Special Session 7: Degradation oriented Reliability Modeling, Analysis, and Optimization
Condition-Based Maintenance Considering Random Opportunities Under Continuous-Time Markov Decision Process
Zirui Wang

,

Informatics at University of Electro-Communications, Japan


(SE705-A )



Special Session 8: Degradation-based Modelling and Decision Making
Multivariate Degradation Modeling with Inverse Gaussian Processes
Guanqi Fang

,

Zhejiang Gongshang University, China


(SE801-A )



Special Session 9: Data-driven Methodology on Maintenance, Warranty, and Failure Data Analysis
Phase-Type Distributions For Incomplete Lifetime Data
Yudong Wang

,

National University of Singapore Suzhou Research Institute, China
(SE907-A )

Special Session 10: Modeling and Risk Management of Complex Engineering Systems
Risk Aversion in a Data-driven Inventory Model
Xianghua Jiang

,

National University of Singapore, Singapore


(SE01002-A )



Oral Session 1: Reliability, Operations & Maintenance Optimization& Risk Analysis and Safety
Development Of Risk Monitor Prototype System For Spent Nuclear Fuel Road Transportation Based On Probabilistic Safety Assessment Methodology
Longlong Tao

,

Chinese Academy of Sciences, China
(SE013-A )
Imperfect Maintenance Optimization of Multi-State Rolling Stocks Based on Deep Reinforcement Learning
Chen Zhang

,

Tsinghua University, China


(SE054 )



Oral Session 2: Systems Reliability Modeling & Evaluation
Reliability Evaluation of Phased Mission System Under Multiple Correlated Failure Modes
Xuejiao Du

,

Harbin Engineering University, China


(SE049 )



Oral Session 3: Reliability Design and Improvement
Research on Protection System of Electronic On-load Tap-changers Based Sen Transformer
Yuhang Pan

,

Harbin Institute of Technology, China
(SE015 )
Model-Based Quality Consistency Analysis of Permanent Magnet Synchronous Motor Cogging Torque in Wide Temperature Range
Chengzhi Sun

,

Harbin Institute of Technology, China


(SE067 )



Oral Session 4: Reliability Testing, Lifeime Analysis and Prediction
Life Prediction Of Lithium Thionyl Chloride Battery Based On Pulse Load Test and Accelerated Degradation Test
Qisen Sun

,

Harbin Institute of Technology, China
(SE066 )
Optimal Design Of Multi-Stress Accelerated Degradation Tests Based On Bootstrap Method
Liu Gen

,

Beihang University, China


(SE059 )



Oral Session 5: Degradation Modeling and Health Prediction
Component Reallocation And System Replacement Policy For A System With Stochastic Degradation Processes
Yaqian Hao

,

University of Chinese Academy of Sciences, China


(SE035-A )



Best Poster Presentation
Accelerated Aging Test and Life Prediction of Rubber Strip for Connector Sealing
Ke Hu
Harbin Institute of Technology, China
(SE050)